Welcome to the Resq Animal Coalition website! Browse our list of available animals. Add favorites and get emails when your breed is available (choose "my rescue", then "my options"). Check out our news section with past articles from rescues or find out how to volunteer under "Volunteer Information".
---
Adoptions by appointment only because our dogs are in foster care. Please fill out our online application and if you are approved, we can set a time to meet.
---
Our Thrift/Boutique "Pawz for a Cause" is located at 926 Cypress Ave. in Redding. The store hours are Monday through Friday 10:30 a.m. to 5 p.m. and Saturdays from 11 to 3. The store phone number is
530-221-7299.
---
VISIT OUR FACEBOOK PAGE TO SEE MANY OF OUR PREVIOUS ADOPTERS AND THEIR SUCCESS STORIES AND WHAT'S HAPPENING NOW AT RESQ! . Visit our page at
---
Consider donating to our rescue via Amazon Smile. 3% of the proceeds from your order will be donated to our rescue.
---
ResQ Animal Coalition is a small, non-profit rescue dedicated to saving lives. We believe strongly that a rescue should not only be a shelter to unwanted animals waiting for homes, but also strive to save the lives of those in our community who are suffering through neglect and abuse. To that end, we have been the driving force that has shut down several puppy mills and also we have been the voice to publicly expose those who we believe are abusing animals in our community. To read about our efforts and view news clips, please visit our "news" section in the left hand side menu and also our facebook page at http://www.facebook.com/resqac.org. Here you will see the horrible conditions that more than 50 schnauzers had to live in and the rescue that resulted from our knowledge of that situation. Also, read of our efforts to help several large parrots that are kept in an outside aviary at a local restaurant in deplorable conditions. If you would like to help us in continuing these efforts please consider volunteering if you are local or donating.

Consider the meaning of the word "rescue":
"to
free
or
deliver
from
confinement,
violence,
danger,
or evil
"
We are not just a shelter; we are a "rescue" in the true meaning of the word!
---
We are currently accepting donations of gently used pet items, handmade goods, furniture, kids clothes or any other new or used items you think might sell. So if you have anything please consider donating - all donations are tax deductible!
---
To adopt one of these wonderful babies, visit our site menu to find out our adoption policies and to fill out an app.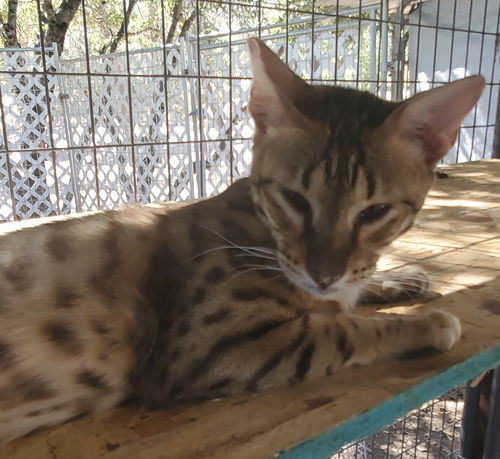 Suki is a red Sable Savannah, 4 years Old, Affectionate with people, can get a little snarky with other females. This kitty will do best on a Savannah specific diet, 1 protein, etc
...read more about Suki
Here is King BOB, he is a Highlander Lynx which is a newer breed that does not show up in our breed database, he is not a Manx. King Bob is about 11 month old. He's not real
...read more about King Bob
Here is a wonderful poem that one of our fosters wrote, for the dog she adopted from us (see "Chula" under our successes section):
My name is Chula and breeding was my game,
Every 6 months my puppies came...,
and then went;
and this Chihuahua girl was spent.


Along came ResQ and carried me away you see,
They took me home for a rest,
And I was careful not to be a pest.


I took a trip to the vet
For a special operation so I could just be a pet.
I stayed in ResQ for some time,
And a Foster Mom took one look at me
And said there is a girl I want to see.


So ResQ packed me up and drove me there,
And my Foster Mom wondered how I would fare.
I wasn't sure of this place where I came,
Everything was loud and new and strange.


I hid in my little cave,
And under the bed I stayed.
With time and care I ventured farther each day,
And made friends with my new animal family.


There is Morgan and Rosie, both dogs like me,
And Happi the big cat,
And her little gray friend Izzy who was rescued out of a tall
tree
and that's that....


My Foster Mom decided that since I was so sweet,
That no more families would I meet.
I'm here to stay and have fun on my new turf
I call this place My Heaven on Earth!